Yesterday, I was in my second ever Brazilian JiuJitsu tournament in Long Beach, CA. I entered because I wanted to test myself and my technique against other competitors. I also competed because it makes me extremely uncomfortable and I like to do things that take me out of my comfort zone. I was nervous the day prior and the day of the tournament.  
When I arrived at the Long Beach arena for weigh in and warm-up I felt out off place. I was surrounded by a lot of tough looking Brazilian guys speaking Portuguese and looking quite confident.  
My match was only supposed to last five minutes and ends either by submission or whoever scores the most points at the end of regulation. Once we started and locked up our grips my nerves disappeared and it was time to get to work. Our match was tied after 5 minutes so we fought another five and it was tied again. So we rolled another five and it was still tied with the next scoring point getting the win. Finally after fifteen plus minutes I lost by a takedown and was exhausted and disappointed but gave everything I had. Besides a black eye and a cut lip I was no worse for the wear and feeling good for competing. Even though I took the silver I still felt proud for competing in a fighting tournament as a 45-year-old endodontist.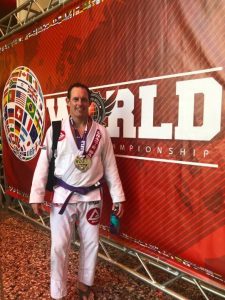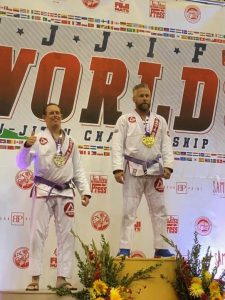 Sometimes I feel that after an endodontic failure or mishap that we want to quit and never get back in the ring. I have made many mistakes in my endodontic career and have learned more from failure than success. Of course, I'm always evaluating success and reviewing my technique, but if I fail—I want to know what could I do better and what circumstances can I control. My encouragement to you is to keep fighting in dentistry and do not be afraid to fail. Learn the root canal playbook and use this as your blue print for effective, efficient and excellent root canal treatment.