Halloween can bring scary moments to both kids and adults. In my area we have Knott's Scary Farm (converted Knott's Berry Farm) that starts in September and runs through October 31st. As a kid, this was one of the scariest nights of my life and in the horror of it all I would do it again. This taught me a very valuable lesson: sometimes scary is okay and we grow and learn from it.
I wanted to discuss a Scary Lesson of my own that occurred in private practice and highlight what I did to recover from this near failure.
Here is a case where I separated an orifice opener in the MB canal of #15 (Figure 1,2). This tooth was necrotic and if I don't get this out, this case is bound to fail. Oh did I tell you that this patient is older and very crabby? The perfect storm.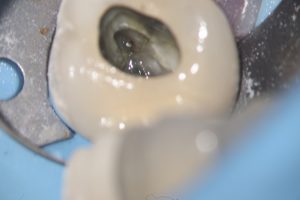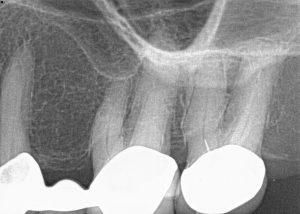 Problem: Separated file right at the MB orifice.
Solution: Ultrasonics.
I used a ProUltra #4 at lower power to trough around the file and pop it out of the canal (Figure 3). I used an EndoVac Macrocannula to remove it from the pulp chamber (Figure 4) so that it didn't fall into another canal (another scary lesson that has happened to me). I then proceeded to finish the case as normal by using the ProTaper Gold series, sealing with Thermaseal Plus Ribbon sealer and gutta percha in a warm vertical condensation technique (Figure 5). I completed this case in 2 visits due to the mistake and canal difficulty (see palatal apical curvature in Figure 5).