Greetings Clinicians,
Though it appears to be a simple, calcium hydroxide application can be tricky.  In my Learning Lessons Case #4, I provide perspective on some of your common CA(OH)2 questions:
What type of calcium hydroxide should I use? Why?
How should I best apply calcium hydroxide?
What do I say to a patient?
What should I avoid?
Click on the image below for a seven-page lesson on using calcium hydroxide.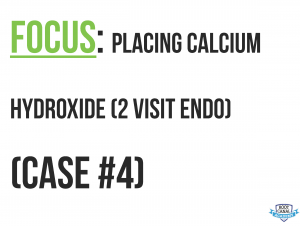 This is another sneak peak at a forthcoming series of Learning Lessons books to be available soon through RootCanalAcademy.com. See other lesson samples in this blog.
Happy endo my friends,
Reid
ReidPullen@RootCanalAcademy.com
.