ProRoot ES (Endodontic Sealer) from Dentsply Tulsa is a new sealer that came to market in May 2016. It comes in a box with 12 MTA like packets and 12 gel ampules. Each packet is intended to be a unidose and contains plenty of powder to predictably obturate any tooth in the mouth whether it has 1 or 6 canals. In this RCA product demonstration, I'll describe Dentsply's ProRoot ES, communicate its benefits, and in a patient video demonstration, provide insight to how to use ProRoot ES with patients.
Calcium Silicate Sealer
ProRoot ES represents a continuing paradigm shift in endodontic sealers toward calcium silicates or bioceramics. These new sealers are not just sealers but can also serve as an apical filler. Historically the gutta percha cone is buttered or lightly coated with a thin layer of Thermaseal Plus Ribbon Sealer (Dentsply Tulsa) or Pulp Canal Sealer EWT (Kerr Endodontics) and then placed in the canal to working length. The ultimate goal is to have a thin layer of sealer between the gutta percha, dentin and any portal of exit (foramen). The sealer serves as a sealer and in this technique it is better to have a tight fitting gutta percha cone that "fits and fills" the apex or the foramen with just a small layer of sealer in between. The Warm Vertical compaction technique serves to heat the apical end of the gutta percha so that it can be molded and plugged to intimately fill the foramen or apical exit thus obtaining an excellent seal between the 'inside' and 'outside' of the canal system.
ProRoot ES Description

ProRoot ES Packaging Micronized Gutta Percha
In reality, it is difficult to place a heated tip into the gutta percha within 4-5mm of the working length. Heat only travels 4-5mm down the gutta percha point so in order to heat the apical 1/3 and get a true apical seal the heated tip must reach that level. Often times this is not possible due to canal curvature, length, or smaller canal shapes (04 taper). So in essence the majority of dentists are performing a single cone obturation with Thermaseal Plus Ribbon Sealer or Pulp Canal Sealer EWT due to the fact that they are unable to get the heated tip within 4-5mm of the apical gutta percha.
It is my opinion that most dentists are performing a single cone obturation with the wrong sealer mainly because they feel warm vertical condensation is either too technique sensitive or takes too much time.
Why use calcium silicate sealers?
ProRoot ES represents a shift in sealer technology in that it not only seals the canal system but it also acts as a filler. Dentists can perform a double butter single cone hydraulic condensation with ProRoot ES and the new Dentsply Tulsa micronized gutta percha points (excellent fit due to greatly reduced error rate on size) and not worry as much if the apical end of the gutta percha cone fits perfectly into the foramen size. The ProRoot sealer will flow into the apical foramen filling any excess space and forming a tight seal.
ProRoot ES Patient Demonstration
What are some other benefits of ProRoot ES and calcium silicate sealers?
1- Massive reduction of post-operative sensitivity.
2- Osteogenic/Osteoconductive= can promote cementum growth
3- Antibacterial
4- Setting pH 11.6, Set pH 11.7
5- Bonds to the dentin and gutta percha
6- Hydrophilic= the sealer will set in moisture
7- Excellent Flowability
8- Excellent Coatability- the sealer coats the dentinal walls in a 360 degree fashion
9- Does not promote periradicular inflammation
10- 65 minute working time
11- Relatively quick set time of 12 hours (quick in the sealer world)
12- Re-treatable
13- Can seal apical perforations (in theory)
Here is what the packaging looks like: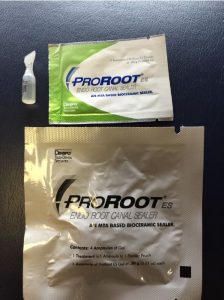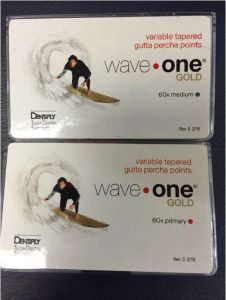 Calcium silicate sealer, such as ProRoot, can certainly help us with our desired E3 goals of being more effective and efficient, yielding excellent results with patients.
–Reid Pullen
*     *     *     *
Interested in being 'Better Tomorrow?'  Become a Resident Member of Root Canal Academy. Or try us by joining our Join RCA's Free Library.
RCA's email list will keep you informed, as will our Twitter, Facebook, and LinkedIn feeds below. Thanks for visiting!